In 2018, the Marvel industry gave life to the comic books character created by Stan Lee and presented him to the world as a superhero who would evolve into the symbol of diversity and cultural heritage.
Chadwick Boseman played T'Challa in the leading Black Panther delivery of the fictional African nation of Wakanda, swept the box office and touched the souls of many by highlighting America's racial history by showcasing a mostly black cast rather than the ones we were used to seeing with Marvel.
The second film has just been released and has shown that the film industry is becoming more and more diverse to build visibility. Black Panther: Wakanda Forever narrates how is life after the passing of T´Challa, how Wakanda is affected by it, and most importantly the impact it has on T´Challa´s family.
The honest and beautiful representation of T´Challa´s sister, Shuri, mourning her journey while navigating the leading role her country needs her to be is not the only impressive thing that the film demonstrated, but the amount of cultural legacy and roots that was presented to us making it one of the most vital media narratives of the year.
Wakanda gets in connection with the underwater kingdom Talokan a Yucatan-Mayan tribe that is ruled by Namor, alongside its Namora, interpreted by Mabel Cadena. Mabel Cadena is shining into her own light in Hollywood after being recognized for her successful career in theater, film, and television in Mexico, now Mabel Cadena is able to be a part of the diversity that this film embraces.
Mabel Cadena shares her growth in her acting journey ¨This is an amazing opportunity and actually, I never thought these things happened in my life so now I have the opportunity to feel my life in a new way. When I was at ComicCon, my first thought was ¨omg, I need to talk to my little kid, my little Mabel¨ and I need to say sorry because maybe she gave up some dreams¨.
Mabel Cadena narrates how it feels to be able to represent an inclusive and diverse narrative as a Mexican woman ¨I never expect to have this wonderful life and this wonderful career and as a Mexican woman, this is so powerful for the generations to come, for my generation, and for a lot of people right now. I have this opportunity because other women and men, Mexican people and Latin American people worked In this way for us¨.
The film connects communities with dignity and it brings hope to the way film is expressing itself culturally. Everyone involved in the film did a great job of acknowledging this diverse cultural group that has been interiorized or almost invisible in the media since in the film you are directly exposed to the native Mayan language and the response of the characters to the kingdom Talokan and their people, with acceptance and respect.
Coming from a Mexican heritage, Mabel Cadena expresses her experience of joining the Black Panther and Marvel cinematic universe ¨When I started the movie. When I first received the call about ¨hey Mabel, you got the role and you are going to play Namora¨ to me was like really? because I didn't speak English at that point and they had to start with my sessions and coach¨.
For Cadena, with the language barrier and her experiences, at first, it was difficult but the overwhelming warm on the set helped her navigate her work creatively ¨It was really hard for me in that part, but, when I started filming on set I received so much love from the whole team and I received a lot of things about myself as an actress and about me as Mabel in a new language, a new culture, I think I can learn very fast a lot of things because the people received me with so much love so I was really impressed about how every person on set taught me with a smile and a very positive energy, in a very nice word to me. All the time my coach was like ¨Mabel, just play, have fun¨ and the experience was amazing¨.
Namor and Namora's character relationship in the film feels authentic in a way, Mabel Cadena and Tenoch Huerta, are actors who infused our Mexican culture into a universe that even if it's fictional, portrays emotional depth that trespasses the screen. Mabel Cadena, Tenoch Huerta, and Josué Maychi have the opportunity for future generations to grow proudly and show that your culture, your skin tone, or your social class are no limitations.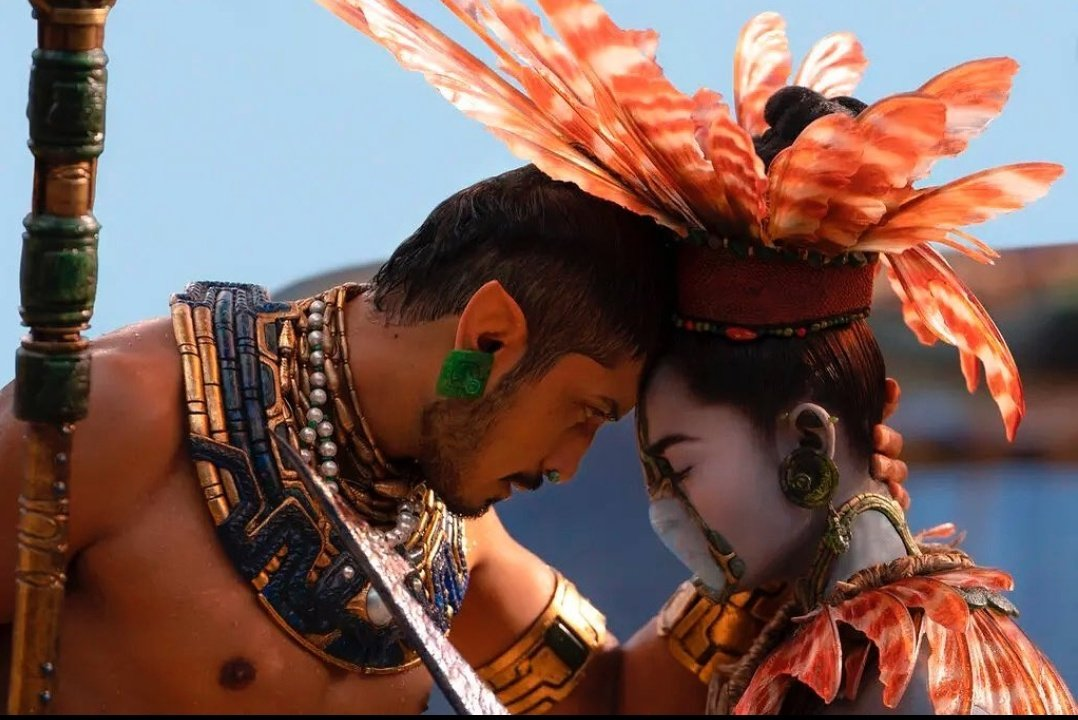 "It is not the same to see characters of your skin tone and your characteristics stealing than being kings of such a powerful and powerful kingdom". Tenoch Huerta shares in an Interview with Meristation
Director Ryan Coogler and producer Nate Moore established with Mabel Cadena the cultural significance that the role itself had ¨the whole time they talked to me about my Mexican culture about what means to me as a Mexican Latin American woman who represents my character so I have the opportunity to bring my Namora, my experience about my culture. Ryan Coogler and Nate Moore all the time said yes, prove, try, let's see what happens with the proposal so I'm really grateful because the team was very lovely, generous, and amazing with me and with my poor experience and my poor language¨.
Ryan Coogler was inspired by indigenous Central and South American civilizations when composing the MCU's Talokan.
¨It's huge you know because it's the first film, a huge film, a blockbuster film with Mayan people, with an indigenous language, and it's amazing to me because I'm not Maya or indigenous but my heritage is¨ Cadena reflects on her own experience and her understanding of the preparation ¨We have Josué Maychi who is my coach and an actor in the movie, he is Mayan and he talked to me all the time like ¨hey Mabel I want my people to feel represented with dignity so you need to speak very well Maya¨.
¨Josué Maychi recorded all my lines and he sent them to his mom and said ¨if my mom understands Maya we can pass to the next line but if she doesn't understand anything we need to stop and start again and again¨, it was an amazing process¨. Cadena shares.
The film touches on the subject of colonization and the consequences it had on the Talokan history, As a result of the cultural genocide European colonizers committed against Indigenous people in the Americas, Tenoch Huerta In an interview with The New York Times believes racism is prevalent in Mexican society today.
Mabel Cadena opens up about the impact on her career as an actress coming from cultural background ¨First, Black Panther changed my whole life and changed my mind, I feel different, I think differently, I want different things, and I have new expectations about my life, and that means representation because maybe when I was a child I never thought to see a face like this in a movie like that¨.
The film embraces and protects Mayan origins by integrating diversity off the screen, the passion to portray civilizations as a source of power and strength floods the movie theater even for Mabel Cadena ¨Now to me, Black Panther is like omg my name is there, my face is there, and the difference in culture, colors, and people, are in the movie. Sometimes I don't know exactly what to say about the representation but when I watched the movie for the first time to me that was the representation, the whole motion in my body, I don't know how to name it but the feeling is huge, it's amazing¨.
Mabel Cadena narrates how now people approach her with something new in their eyes and faces, a bond ¨They can connect with their own stories so to me that's new, that's the reason because sometimes they thought wow, Black Panther is just not just a superhero movie, it represents a lot for different people, different stories because maybe Wakanda is a completely different story about Latin American people but at the same time we can feel the same movement, feel the same spine about what means representation in our own cultures and stories¨.
Mabel Cadena thanks her grandmother and mother for the opportunities that she now has to make this story possible, to become a voice that's ready to be heard ¨They gave up some dreams before and they bring me the opportunity to now have an amazing life and voice, I can be this woman and actress for my story, for my heritage, for my grandmother, for my mother, for my sister and I feel hope for the future in my own life and to my sister's and cousins life and my Latin American people and the people around the world that represents a minority, it's crazy all of this stories¨.
Having such a powerful cultural background, how did Mabel Cadena actually build Namora´s character in order to help bring a voice to indigenous or mesoamerican communities?
Mabel Cadena confesses that at the very beginning, she had no idea who was Namora and the comic book universe she belonged to, Ryan Coogler started to share with her Namora´s story ¨My first thought was I don't feel connected with that Namora because to me, it's obviously completely physically different from Namora, and it's amazing but I don't feel connected with that picture¨.
Namora´s character was built around Cadena´s uniqueness and with resources to bring genuine life to the character ¨For me Namora is strategy, she's a powerful woman, who is stronger and smart and she has a very objective about protecting her people, about protecting her Namor, she prepared her whole life for that so that's the reason the last scene is very hard for Namora¨.
The creative and technical differences around the character made Namora's essence richer ¨sometimes I spoke to Ryan Coogler about lines to me that felt different for me as a woman, and as a Mexican. I would try to say this line in different ways but for indigenous people, Josué Maychi knew that it was a very important thing in these constructions because I do have ideas but I'm not Mayan so I really wanted to be really respectful of the Mayan people and Josué Maychi helped me a lot to make it happen, it was a very specific construction for Namora¨.
Cadena´s training showed her compromise for Namora´s story ¨I trained with an Olympic coach In Mexico to play and leap underwater and then in Atlanta, we had to take classes in free diving and I held my breath for six minutes and a half. I'm very competitive and really have a compromise for my character and for my physical preparation in every scene.¨
The individuals behind the movie with compromise, the traditional elements in the clothing of this ethnic group, thus creating a more inclusive social reality, a more intimate, and specific representation of the Mayan culture. That is why the importance of love for the cinema breaks what is always seen on the screen and grows in positive transformation. In the words of Mabel Cadena for Elpais, "Beyond skin color, it is making stories that touch and are deep and that can show a diversity of life."
Don't miss the full and inspirational Interview with Mabel Cadena on Youtube here!