The word unrefined typically is associated with an uncouth woman, who by society's standards, lacks the gracefulness of what it means to be feminine. Created by an (almost!) all women team, "Unrefined Delicacy" is an exploration of the word "femininity" as something that can be both strong and delicate, both carefree and structured, both soft and harsh. Inspired by the creators own experiences as young women discovering what their womanhood means, this project provides a sense of comfort and relatability to those who are facing similar journeys in their young adult life. "Unrefined Delicacy" is a multimedia project including photography and collage art. They produced a photo series inspired by luxury perfume and fashion adverts, such as Marc Jacobs' Daisy, that displays distinctive tropes of womanhood + femininity, this project provides a sense of comfort and relatability to young women who are blooming into their understanding of their new found womanhood. With Women's History Month approaching, this piece participates in the on-going conversations around the duplexity and sacrality of what it means to be "a woman." Check out our interview with the team:
GEN-ZiNE: Tell us about yourselves.
Raven Irabor:I am a first-generation Caribbean and African visual artist, creative director, creative producer, and muse exploring themes of identity, space, and culture, specifically within the African Diaspora.
Inspired by creatives such as Renell Medrano and Solange Knowles, my personal work is part of a contemporary African Diasporic movement of creatives who are providing fresh perspectives on the notions of identity and space within the music, fashion, and art communities.
Tanazjha Washington:I am an actress and creator that moved to LA from Buffalo, NY. My purpose is to evoke emotion and intention through art.
Carolina Salazar:I am a Guatemalan-American, born and raised in LA. Creating images for the last 10 years and continuing to truly cherish and capture the human experience. We are all such beautiful individuals, different from our features to our beliefs. We range from many cultures and languages. My goal within this world is to enhance the authenticity of the human. To bring what I think is most beautiful in the being for who they are.
Casey Mackay:My name Casey Mackay I'm 22 years old, I've been doing makeup professionally for five years. I got into makeup through the art of drag and the art of transformation through makeup.
Vanessa Serrano:I'm a Mexican-American Latina, born and raised in East Los Angeles. I'm a film photographer, poet, and body positive activist. My passion is creating but more importantly supporting other artists and ensuring that I stand for what I believe in no matter what I do. That is why I enjoy photography and writing because it allows me to interact with so many people across different walks of life, I truly enjoy being able to connect but also tell their stories in any way I can.
GZ:What inspired this project?
Raven Irabor:I'm in my mid-twenties now and I've been really interested in this idea of femininity and womanhood as I get older. Through the unpacking and challenging of my own thoughts to conversations with the many women in my life, I have become more attuned with who I am as a woman thus became more interested in: the idea of feminism, expectations on how women are supposed to "be," and what it even means to be a woman. I brought this idea starter to TaNazjha and we began ideating on the different qualities that make up a woman. We looked at celebrities and leaders who we felt captured the essence of what it means to be a "woman" and noticed the duality that exists in those qualities.
Tanazjha Washington:A conversation between Raven and I after we watched a Diana Ross interview. We were in awe of how she captured the interviewers attention and used her femine ways to dominate the conversation and make him squirm. This started a discussion of the qualities that we enjoy of being a woman and the power that women possess.
Carolina Salazar:This project was based on the duality of femininity, we can conjure such softness yet be so strong. We are multifaceted and interpersonal beings with inner strength and such graceful transcendence. When Raven and TaNazjha reached out to me, I was absolutely on board. Myself as a woman, in my profession, my femininity is pushed in different ways. Not to mention on a personal level as a modern day woman, the different sides you need to engage to move forward in today's society.
Casey Mackay:The inspiration for this project is how women can be delicate and bold at the same time. I was really interested and fascinated by the editorial aspect of the project.
Vanessa Serrano:This project was meant to capture femininity and masculinity in women; how they coexist within us. Society hyper fixates on the 'gentleness' and 'softness' of women and fails to see that we are masculine beings ourselves. That is what this project is about, being comfortable in different sexual energies that are within us. We as women are adaptive, radiant and badass. Raven and Carolina asked me to assist on this project and I was more than delighted to because this topic is something that we all relate to. It was lovely working with people that care about the same topics and issues and I think we see that reflected in this project.
GZ:What is the message you hope to communicate?
Raven Irabor:I think it's this on-going conversation of yin and yang.
Women can be both soft + playful and sensual + powerful.
Women can be both masculine and femnine.
Women can be both assertive and submissive.
We don't have to subscribe to one notion of how to be a woman.
I also have been thinking a bit about self-portraiture lately as I continue to engage myself as my own muse in my projects. Through this lens, I hope to encourage women to document themselves as they evolve and as they begin to step into their own.
Tanazjha Washington:The ever evolving message of how a woman can exist in both delicacy and joy as well as strong and fearless in a male dominated world. A woman shall and will exist at all times in the skin she chooses without the limits placed on her from the outside world.
Carolina Salazar:I hope to show the beauty of the duality our femininity can partake. I hope you understand that either soft or edgy, we are still very beautiful intricate beings with a level of depth. We should be very proud of our femininity and what we transcend.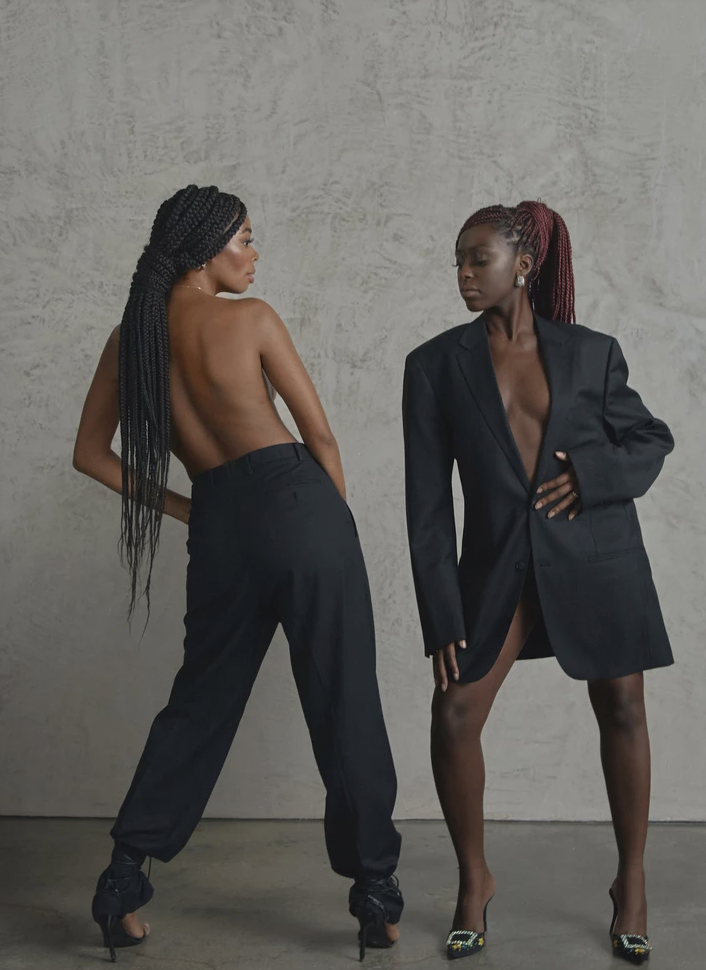 Casey Mackay:A message I would like to get out there as a makeup artist is that the makeup is the finishing touch for the project. Whether it is a character in a film, a model on the runway, or an actor on stage.
Vanessa Serrano:As a photographer myself I believe it is important to showcase topics like these in digital media to further create discussions about femininity and the stereotypes around it. In a way, showcasing a topic that can educate people but also allow women to consume art that is beyond the male-gaze. I want other women to see messages of beauty, empowerment and feel inspired.
GZ:How would you like to see this change reflected in society?
Raven Irabor:I want to see more women explore who they are as human beings, spiritual beings, and sexual beings outside of the male gaze. Women are so beautiful and powerful and I am ready for us to own that! I love seeing posts on social media where women embrace themselves and own who they are. We need more images like that! Those images inspire and create well needed conversations, allowing other women (and young girls) to feel like their experiences are not singular and giving them the courage to stand in their power.
Tanazjha Washington:By simply getting letting women be 😉.
Carolina Salazar:I hope for more acceptance for women within society. PERIOD. Understanding that femininity is not something negative and to be looked down upon, but something to be cherished and honored for our sense of duality and depth.
Casey Mackay:Through this project women can be delicate and beautiful but still be strong and powerful.
Vanessa Serrano:I want women and anyone who identifies as a woman to know that there is not one way of being 'feminine'. Everything in life falls in a spectrum and so does femininity. I want all women to know that it's okay if you do not fall into the definition of being a woman that society pressures on us everyday. Be unapologetically you, your femininity is YOURS to describe and claim, no one can do that for you. I also help men understand the messages being conveyed to further be allies to break the misconceptions of femininity.